Chantix
Patient assistance program
Complete a free online enrollment application to find out if you're eligible to pay only $49 per month for your Chantix medication with our help.
Get started today
Secure: Your personal and medical information is safe with us
Convenient: We manage the whole process and we're here to assist you
Ongoing refills: We request your medication refills on your behalf
Secure: Your personal and medical information is safe with us
Convenient: We manage the whole process and we're here to assist you
Ongoing refills: We request your medication refills on your behalf
NiceRx works with your healthcare provider to help you access affordable medications directly from U.S. pharmaceutical companies.
An introduction to NiceRx

Next steps after qualifying

Uploading documents and billing

SSN & billing information
How it works
Qualification

NiceRx verifies your eligibility for medication assistance and notifies you if you are qualified. The pharmaceutical company provides your medication for free and you only pay our service fee.

Upload Documents

You may be required to submit further information and documents required by the pharmaceutical company which can be securely uploaded online.

Application Created

Your application is created and sent to your doctor for signature. At this stage, you will be billed $49 and will not be billed again until you receive your first medication delivery.

Receive Medication

Your application is sent to the pharmaceutical company. You will be billed again once you receive your medication. We handle the entire ordering process including requesting ongoing refills.
Have you been prescribed Chantix to help you stop smoking? Do you need assistance to pay for your medication? NiceRx may be able to help. 
We work alongside your healthcare provider to help you enroll in patient assistance programs for prescription medications. If eligible, you could get your Chantix prescription for a flat fee of $49 per month.* The full enrollment process is handled on your behalf by NiceRx, assisting you to secure safe and cost-effective access to the medications you need.
Your monthly Chantix cost savings if eligible
With our help, you could get your Chantix prescription for a flat fee of $49 per month. This single monthly fee covers the full cost of your Chantix medicine.
Strength
Avg. monthly price at
a US pharmacy
NiceRx monthly
price
Monthly savings
with NiceRx
53 tablets Starting month (1 box)
$406.99
$49.00
$357.99
56 tablets Continuing month (1 box)

$406.99
$49.00
$357.99
1mg 60 tablets

$435.45
$49.00
$386.45
0.5mg 60 tablets

$435.45
$49.00
$386.45
Am I eligible for the Chantix patient assistance program?
If you meet the eligibility criteria for Chantix assistance, you could receive your medicine without paying the full retail price. We review each Chantix assistance program application individually. It's important to note that the main factors likely to be considered are:
I am a permanent, legal resident of the United States or Puerto Rico
I am uninsured or my insurance doesn't cover my medication
I meet certain income eligibility requirements
How do I apply for the Chantix patient assistance program? 
The application process with NiceRx is simple and straightforward. The first thing you will need to do Is complete your online enrollment application. This can be done simply on our website. Essential information that you will need to provide at this stage includes details about any medications you're taking, including Chantix, as well as information about your healthcare provider, your insurance, and your household income. It's important to provide accurate and up-to-date information as this is required by the pharmaceutical manufacturers who'll supply your medication.
Once NiceRx determines you may be eligible for Chantix assistance, we'll handle the full enrollment process for you. We will also request your Chantix medication refills on your behalf for up to one year.
Is NiceRx a Chantix coupons provider?
NiceRx is not a Chantix coupon, a Chantix discount card, or a Chantix copay card provider. We don't offer printable Chantix manufacturer coupons, Chantix discounts, rebates, Chantix savings cards, trial offers, or free Chantix samples. NiceRx is a service provider that helps eligible individuals access the Chantix patient assistance program. 
If you're looking for coupons for Chantix or cheap Chantix, you will likely save more with NiceRx. When obtaining your Chantix medication through us, your total cost will always be $49 per month.
Can NiceRx help me get Chantix if I have insurance? 
We may be able to help you if you have insurance. This includes if you have a high copay or coinsurance responsibility for Chantix, or your insurance company won't pay for your Chantix prescription. We may even be able to assist if you don't have insurance. Apply online to find out more.
How much is Chantix with insurance?
The cost of Chantix with insurance will vary in line with the terms of your healthcare plan. To find out what you may need to pay, your pharmacist or insurance provider will be able to calculate your copay with your current insurance.
How much does Chantix cost without insurance?
Chantix prices can vary by retailer. As a guide, a 1-month pack of 56 Chantix tablets will cost around $600.
What is Chantix?
Chantix is a prescription medicine used to help adults stop smoking tobacco. You take Chantix as a pill you swallow, typically for a course of 12 weeks. It works by stimulating the same receptors that smoking stimulates, helping to reduce your cravings and withdrawal symptoms. It also reduces the strength of the effect cigarettes have on you, helping you to wean yourself off them more easily. 
Chantix active ingredients
The active ingredient in Chantix is called varenicline. It reduces both the pleasurable effects of nicotine and your cravings for it. 
When you swallow a Chantix tablet, the active ingredient varenicline is absorbed into your bloodstream. It travels to your brain, where it binds to the same nicotine receptors that nicotine binds to. This stimulates the receptors in the same way that nicotine does, although not to the same extent. This causes some of the pleasurable sensations of smoking, reducing your craving for cigarettes and your withdrawal symptoms. By binding to your nicotine receptors, varenicline also blocks nicotine from doing so, reducing the pleasure you get from smoking. Over time, the combination of these two effects can help you quit smoking for good.
Chantix side effects & Chantix drug interactions
Chantix may cause side effects, although not everyone will experience them. The most common Chantix side effects are:
Nausea (feeling sick)
Vomiting (being sick)
Gas (flatulence)
Constipation
Sleep problems, including trouble sleeping, and vivid, unusual, or strange dreams
In rare instances, Chantix can cause more serious side effects, including:
New or worsening mental health problems, including thoughts of suicide
Severe allergic reactions to the medication can cause anaphylaxis 
Serious skin reactions that can cause rashes, swelling, redness, and peeling of your skin
Seizures
New or worsening heart or blood vessel (cardiovascular) problems
Sleepwalking
Chantix can interact with other medications including: 
Any other treatments you take to help stop smoking, like nicotine patches
Insulin, usually taken to treat diabetes
Warfarin, an anticoagulant medicine taken to reduce the risk of blood clots
Cimetidine, usually taken to treat heartburn and peptic ulcers
Theophylline, taken to treat breathing conditions like chronic obstructive pulmonary disease (COPD) and asthma
Chantix warnings & precautions
Some people experience new mental health problems and worsening mental health problems, including thoughts of suicide, when they stop smoking. Stop taking Chantix and contact your doctor if you experience serious changes in thinking and mood and if you have thoughts of suicide.
Chantix can cause side effects, like dizziness and drowsiness, that can affect your ability to drive, operate machinery, and perform other dangerous tasks. Avoid doing so until you're confident you know how Chantix affects you.
Chantix can interact with alcohol, making you feel drunk and sometimes causing memory losses and aggression. Limit your alcohol consumption when taking Chantix until you're confident you know how Chantix and alcohol affect you.
Chantix isn't suitable for everyone. Don't take Chantix if you:
Are allergic to the active ingredient varenicline
Are allergic to any of the other ingredients in Chantix 
Are under 18 years of age
Talk to your doctor before taking Chantix if you:
Are taking any of the medications that could interact with Chantix 
Have a history of fits or seizures
Have a heart or blood vessel condition
Have any kidney problems or are on dialysis 
Are pregnant or are planning to become pregnant
Are breastfeeding or are planning to breastfeed
Regularly drink alcohol
Related medications
Chantix research & news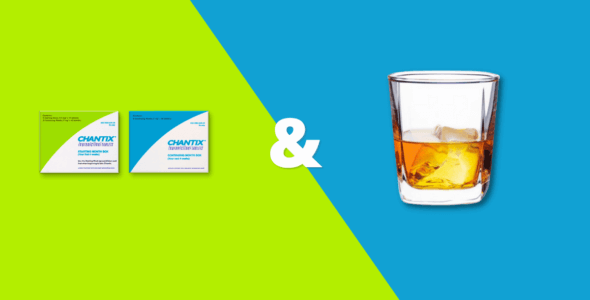 Cigarette smoking is less common than it was a decade ago, but among those with substance use disorders, it remains...
Read more
*Qualifying persons may obtain medications directly from patient assistance programs without any out-of-pocket cost (or for less than $49 per medication). However, our monthly flat rate of just $49 per medication spares you the hassle of tracking down the different programs and filling out all the required paperwork for each program.
Enrollees enjoy a full-service solution, as NiceRx assists them and their physicians with the entire process. We prepare all required documents for the physician to sign, help enrollees manage all prescription refills, monitor eligibility criteria, and maintain enrollment.
**If you do not receive medications because you were determined to be ineligible for the prescription assistance by the applicable pharmaceutical companies and you have a letter of denial, we will refund any fees you paid toward medications for which you did not qualify to receive prescription assistance ("Refund").
To receive a refund, you must send the letter of denial to us by fax to 888-517-7444, or by e-mail to [email protected] within 30 days of your receipt of such letter. The Refund is your sole and exclusive remedy for any fees you may wish to dispute.
The content on this website is intended for information purposes only. It does not constitute medical advice. The information on this website should not be relied upon and is not a substitute for professional medical advice. You should always speak to your doctor regarding the risks and benefits of any treatment.