Botched States
Which states have the best and worst plastic surgeons?
Plastic surgery and other cosmetic procedures are increasingly popular in the US, with around 18 million procedures taking place each year, and almost $16.7 billion being spent on them.
And it's not just limited to one demographic either, with more men going under the knife, and with procedures being popular across many different age ranges.
But which states are the most obsessed with cosmetic surgery? And which are home to the highest-rated, and which should perhaps be avoided?
To find out, NiceRx has analyzed reviews of surgeons from across the country, and taken a look at Google search volume to reveal the most popular procedures in 2022.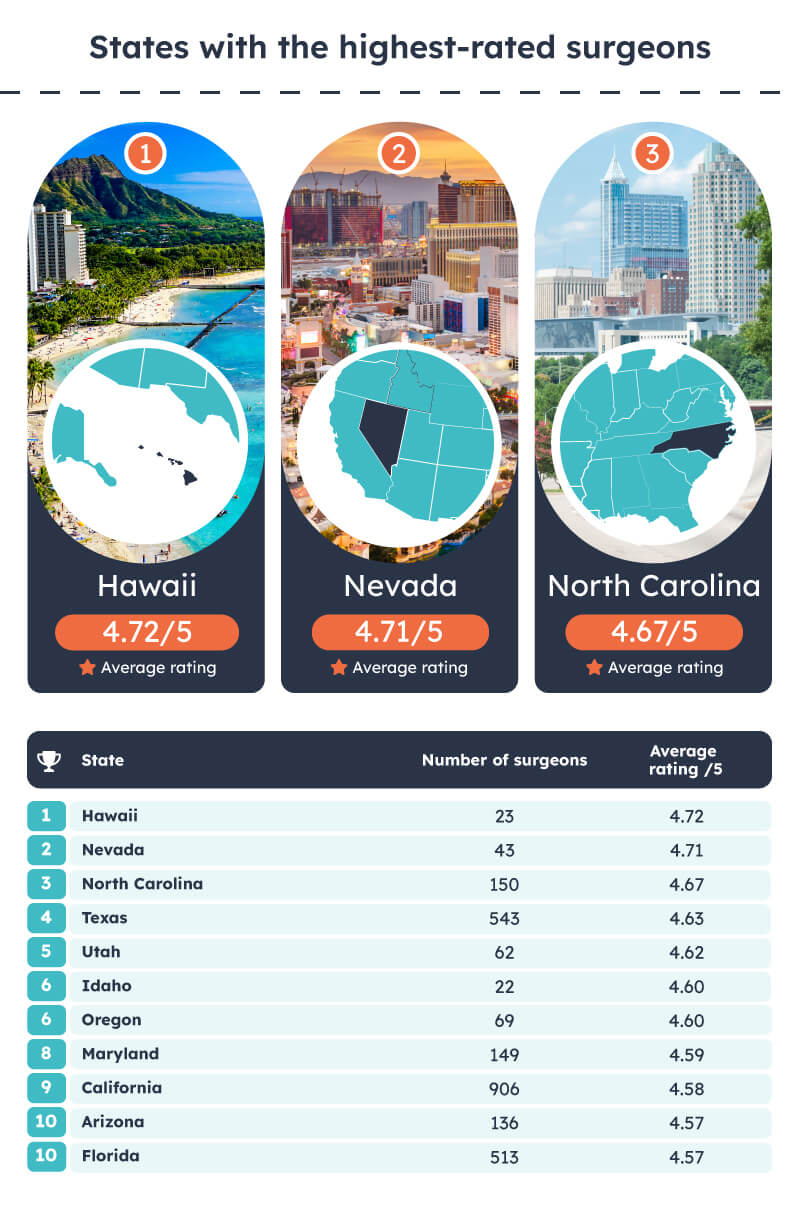 Hawaii – 4.72 / 5
The state that is home to the best plastic surgeons in the country is Hawaii, where the local surgeons average a score of 4.72 out of 5, meaning you may need to hop on a plane if you want to go with the very best.
Nevada – 4.71 / 5
Just 0.01 point behind Hawaii is the state of Nevada, with an average surgeon rating of 4.71 out of 5.00. The majority of surgeons here are based in Las Vegas, with the very highest-rated one being Richards Cosmetic Surgery.
North Carolina – 4.67 / 5
In third place is the state of North Carolina with an average rating of 4.67 out of 5.00.
However, North Carolina has a greater number of surgeons to choose from than Hawaii and Nevada, with 150, compared to just 23 and 43 respectively.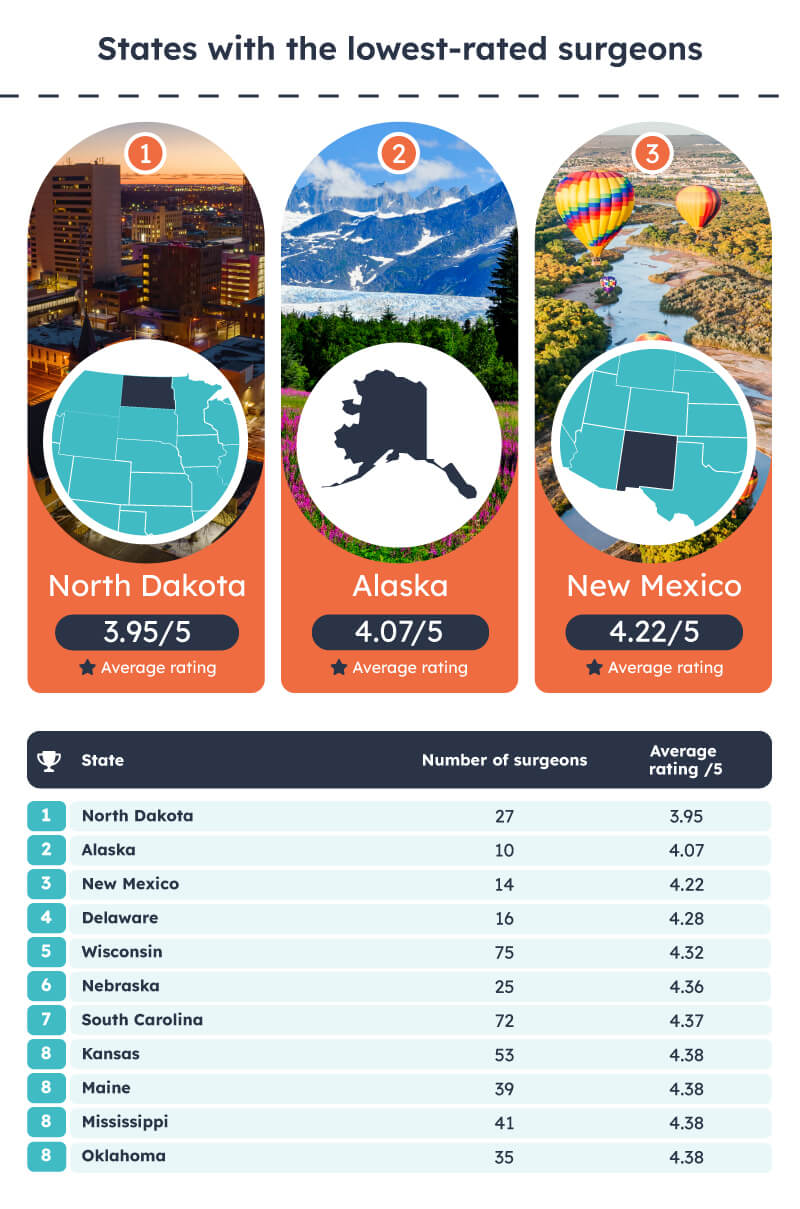 North Dakota – 3.95 / 5
The only state where the local surgeons had an average rating of lower than 4.00 is North Dakota, with an average of 3.95. North Dakota is also amongst the states with the fewest surgeons, with just 27.
Alaska – 4.07 / 5
The state with the second-lowest average rating is Alaska, at 4.07. There are even fewer options for those looking to go under the knife here, with just ten surgeons listed in the state.
New Mexico – 4.22 / 5
Completing the three lowest-rated states for plastic surgeons is New Mexico, with an average rating of 4.22 out of 5.00. Despite being the fifth-largest state in the country, New Mexico has just 14 listed plastic surgeons.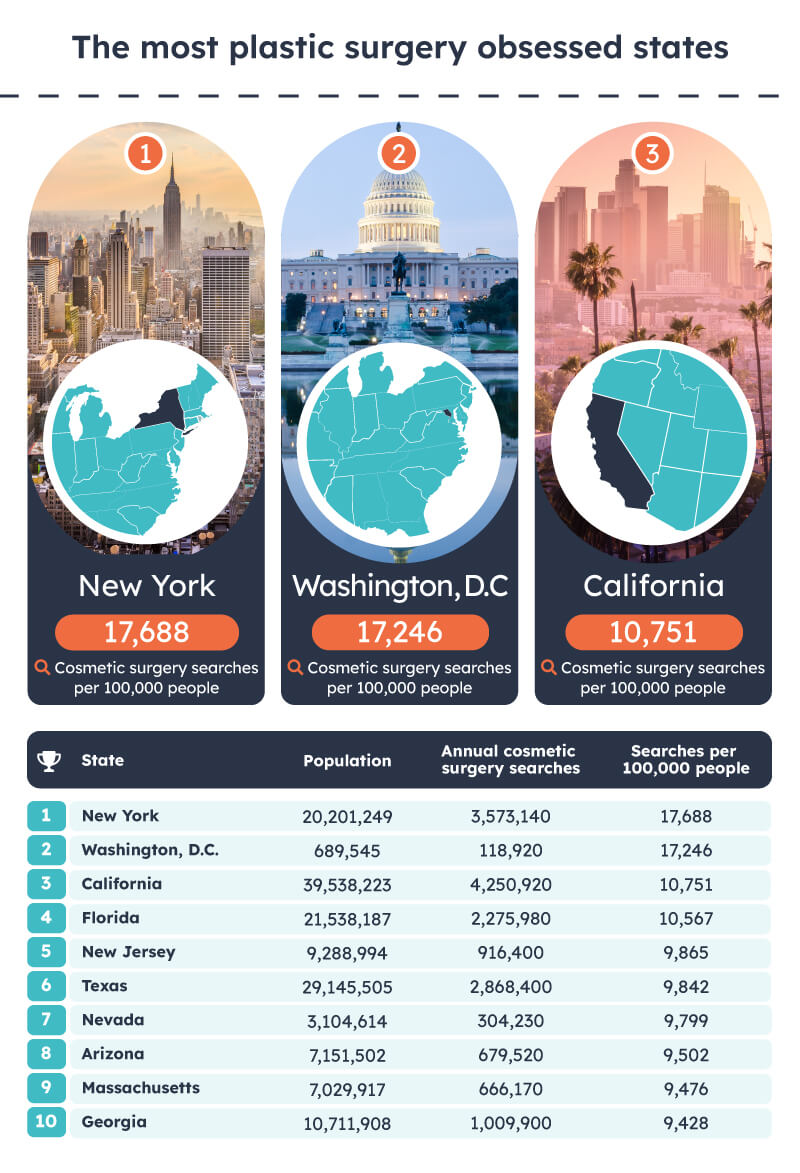 New York – 17,688 cosmetic surgery searches per 100,000 people
When we turn to Google search volume, New Yorkers are those who spend the most time researching plastic surgery. Looking at searches for 100 different procedures, those in the Empire State made 17,688 searches per 100,000 people, more than in any other state.
Washington, D.C. – 17,246 cosmetic surgery searches per 100,000 people
In second place is Washington, D.C., with 17,246 plastic surgery searches per 100,000 people, slightly fewer than in New York, but considerably more than the next state, California.
California – 10,751 cosmetic surgery searches per 100,000 people
As the home of Hollywood, it's perhaps not surprising to see that Californians are partial to a bit of cosmetic surgery, placing in third place here with 10,751 searches per 100,000 people.
Laser Hair Removal – 4,998,000 annual searches
In terms of the most popular cosmetic procedures nationwide, the most searched by far is laser hair removal, with just below five million searches in the US in the last year. Laser hair removal promises a stubble-free life by using a laser to permanently remove unwanted body hair.
Botox – 2,0220,000 annual searches
The second most popular form of cosmetic procedure in the US is botulinum toxin, better known as Botox, with just over two million searches in the last year. Botox relaxes the muscles in the face to help smooth out lines and wrinkles, although the effects only last for around three to four months.
Liposuction – 1,676,000 annual searches
The top three most popular cosmetic procedures are completed by liposuction, with 1.7 million annual searches. Liposuction is a surgical procedure that involves using a suction technique to remove fat from certain areas of the body, such as the abdomen, hips, thighs, and buttocks.
Methodology
States with the highest-rated surgeons
All information is sourced from Top Plastic Surgeon Reviews which aggregates surgeon reviews from four sources:  Vitals, Healthgrades, Realself, and Google. To calculate an average score for each state, we took the grand total score of all surgeons within each state, dividing this by the total number of reviews for each state.
Note that these figures only relate to surgeons listed on these sites and states with no information were removed from this section.
Most plastic surgery obsessed states
We built a list of 100 different types of cosmetic surgery and used Google Ads Keyword Planner to find the total number of searches made for each of these between April 2021 and March 2022. This figure was then calculated per 100,000 people, using figures from the 2020 U.S. Census.
Most popular cosmetic surgery procedures
Using the same methodology and list of procedures as the above section, we found which procedures received the highest number of searches nationwide.
If you are unable to afford your medication, we may be able to assist. NiceRx provides access to FDA-approved brand-name medications, including Januvia, Janumet, Aubagio, Ozempic, and Trelegy Ellipta.