The Elder Fraud Report Revisited
Revisiting our report on the patterns & changes in fraud committed against elders
We previously brought you our elder fraud report where we delved into the data surrounding scams and fraudulent schemes targeting the over 60s across the US. With new data now available, we are able to dive back into the figures to find out how elder fraud has changed over the course of a year and whether elders are at more or less risk now than they were in previous years.
What is elder fraud?
There are a number of types of elder fraud and targeted scams that can con people out of their money, with millions of elderly US citizens falling victim to it each year.
With the ever-evolving world of technology being somewhat confusing and intimidating for many elderly citizens, some may be more susceptible to falling victim to scams that involve technology.
From extortion to romance scams, there are numerous ways in which fraudsters target the elderly, many of which we will explore in this report, as well as the losses and prevalence of these frauds.
The states where elder fraud is most prevalent
Some states seem to have to deal with elder fraud more often than others, with there being thousands of incidents in each state during 2021. So, with this in mind, which states had the highest rate of elder fraud?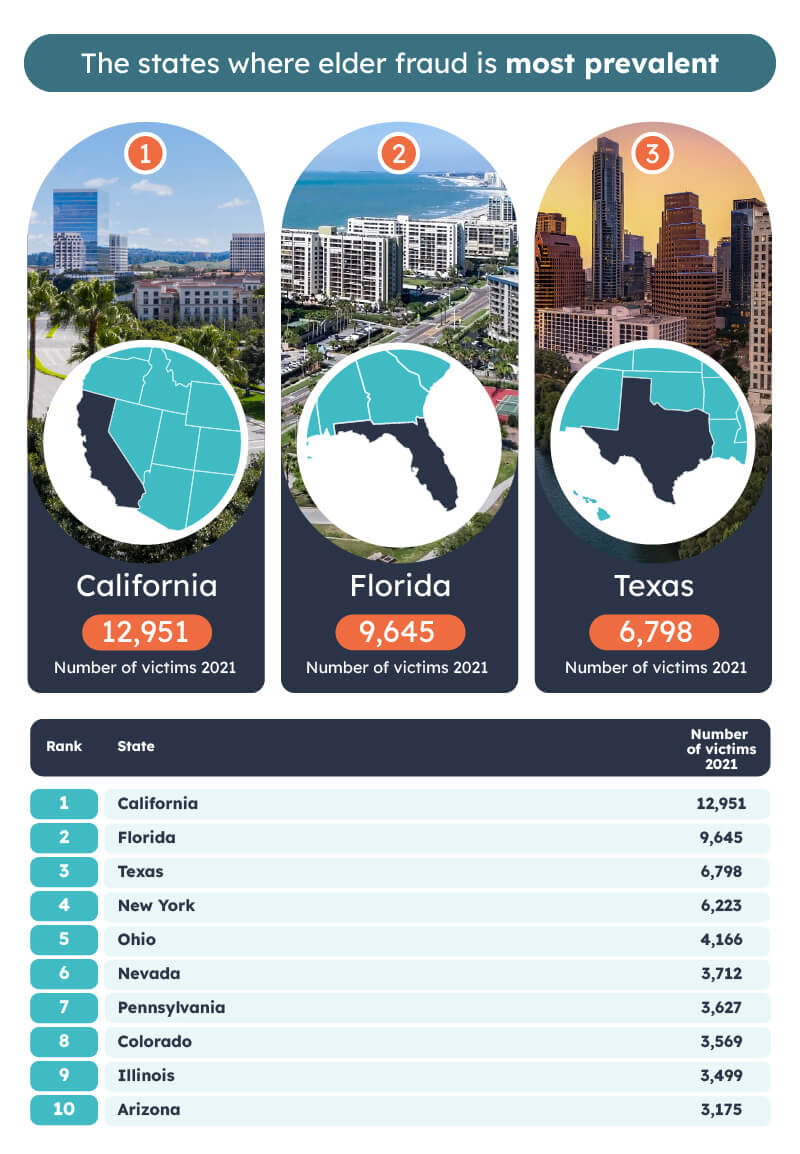 California – 12,951 victims
Remaining in top place is California, with a rise of 3.33% since 2020. While 2020 saw 12,534 victims over the age of 60, 2021 saw 12,951 Californian elders fall victim to fraud and scams.
Again, following the 2020 ranking, Florida places second with 9,645 victims. Again, this is an increase from 2020 of 4.25%, with more Floridians falling victim to fraud in 2021 than the previous year.
Rounding out the top three is another repeat from the 2020 ranking, with another sizeable increase. Texas sees a rise in victims of 7.19%, going from 6,342 elder victims in 2020 to 6,798 in 2021.
The states where elder fraud is most costly
While the number of victims of fraud and scams can seem alarming, the financial losses experienced by these victims is even more shocking.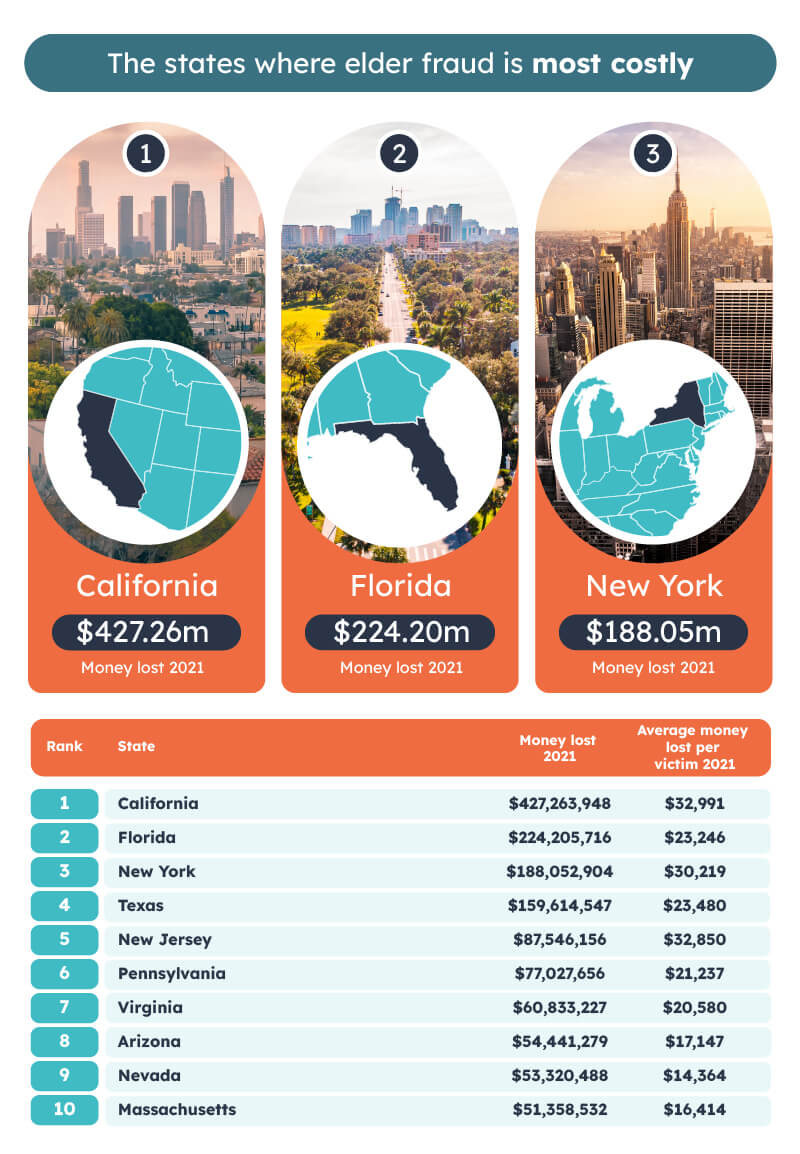 California – $427.26 million
Again, California retains its number one position with elderly Californians losing over $427 million in 2021. This is a huge sum, especially when we consider the amount of money lost in 2020 – $152.64 million. This equates to a massive increase of 179.91% and averages out to $32,991 per victim.
Florida – $224.20 million
Remaining in the second spot for another year, Floridian elders lost a whopping $224.20 million in 2021. This equates to $23,246 per victim and is a 164.86% increase since 2020's figure of $84.65 million.
New York – $188.05 million
Replacing Texas in third place is New York, where elders lost $188.05 million in 2021. This is $30,219 per victim and a 128.81% increase since 2020.
The most common types of elder fraud
There are many ways in which elderly people are defrauded and scammed out of their hard-earned money, but which are the most common types?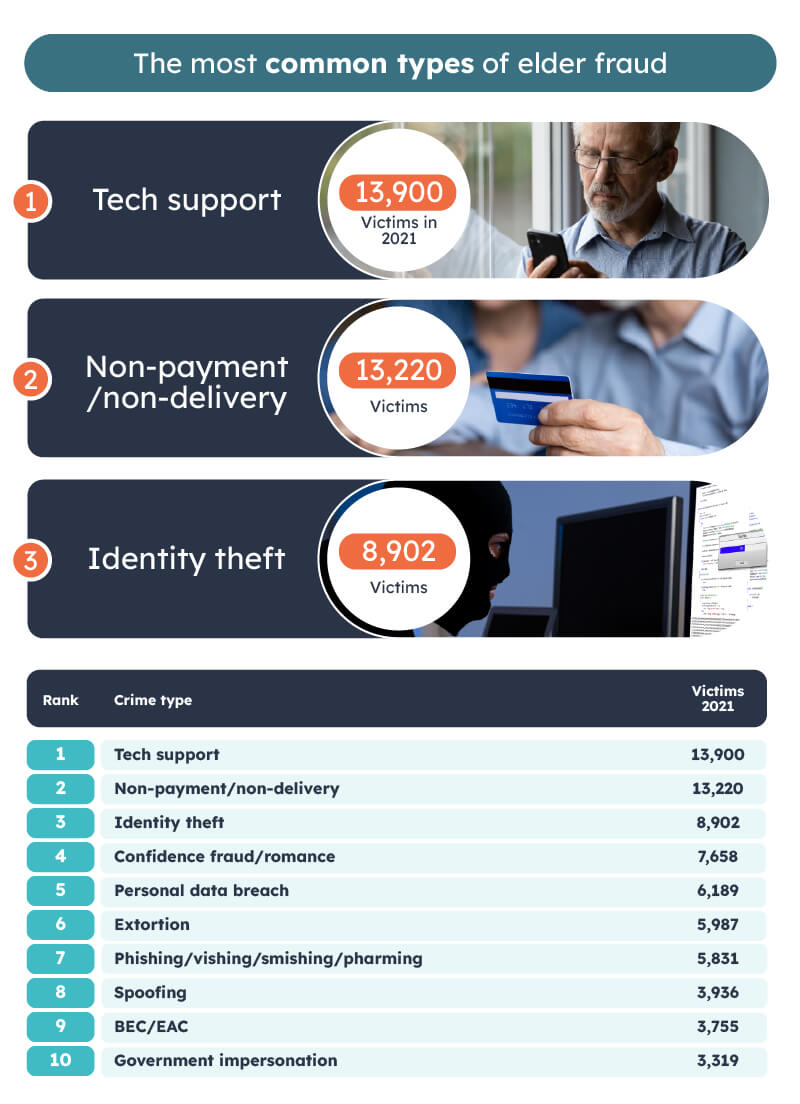 Tech Support – 13,900 victims
While in 2020, this type of scam placed third with 9,429 victims, in 2021, this was the most common type of elder fraud with 13,900 victims over the age of 60.
Tech support fraud involves fraudsters posing as technical support workers, often claiming that the victim has a computer virus or that their online banking has been compromised. These scams often end with the victim unwittingly transferring money to the fraudster or even handing over online banking details.
Non-Payment/Non-Delivery – 13,220 victims
Maintaining second place in the top three most common scams is non-payment/non-delivery which decreased in 2021 with 13,220 victims as opposed to the 14,534 victims in 2020.
This fraud type involves offering and advertising an item for sale with no intention of sending the item ordered when payment is made.
Identity Theft – 8,902 victims
Moving up from position four to position three, identity theft is the third most common elder fraud type with 8,902 victims in 2021, a considerable increase from 2020 when there were 7,581 victims.
This type of fraud involves a fraudster stealing and using personal information in order to commit fraud, other crimes or to takeover bank accounts.
The most costly types of elder fraud
Each different type of elder fraud can cost victims millions of dollars every year, but which type of fraud has cost over 60s the most in 2021?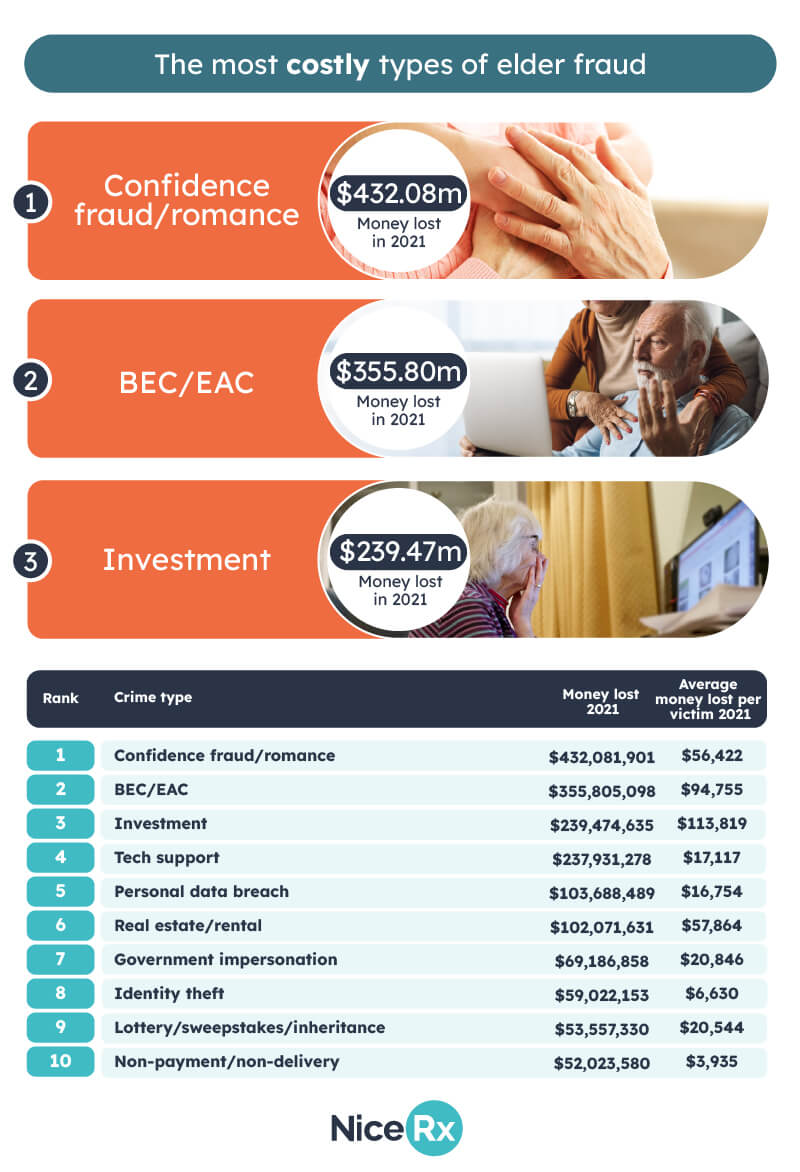 Confidence Fraud/Romance – $432.08 million
Confidence fraud and romance scams retain the top spot in 2021, but they see a huge 53.69% increase in losses compared to the 2020 losses of $281.13 million.
Costing the average victim $56,422, these scams are costing elders more than ever in 2021, perhaps owing to fraudsters taking advantage of the massive levels of loneliness felt across the country during the pandemic lockdowns. As the world has started to open up again, this may be presenting scammers with more opportunities to persuade victims to part with their cash through romance scams.
BEC/EAC – $355.80 million
This type of fraud stays in the number two spot, though with a considerable increase in financial losses of 110.79%, with the 2020 losses being $168.79 million. In 2021, the $355.80 million losses equate to an average loss of $94,755 per victim.
Business email compromise/email account compromise, otherwise known as BEC/EAC targets businesses and individuals respectively, fraudulently accessing email accounts and using them to transfer funds from the victim.
Investment – $239.47 million
Lastly, investment fraud rises from the number four spot to sit in the top three after a huge increase in financial losses of 144.26% from $98.04 million to $239.47 million.
These schemes convince victims to invest in illegitimate investments, promising massive rewards based on false information.
Methodology:
All data is taken from a 2021 Elder Fraud Report produced by the Federal Bureau of Investigation and is an update of a previous report.
If you are unable to afford your medication, we may be able to assist. NiceRx provides access to FDA-approved brand-name medications, including Januvia, Janumet, Aubagio, Creon, and Trelegy Ellipta.