The Elder Fraud Report
The patterns and changes in fraud committed against elders
While the majority of us believe that we should look after the most vulnerable members of society, there are some who prey on those vulnerabilities for their own gain. There are many costs associated with later life, from prescription medications to treating the grandchildren, but losing money to fraud and scams shouldn't be one of them.
Popular YouTube channels and videos featuring pranksters wasting the time of would-bescammers may have had a hand in the increase in awareness of fraud and scams which target the over 60s in particular. In fact, the term 'elder fraud' saw a substantial increase insearches in 2021 with 6,120 searches in the US, compared to 4,620 in the previous year; a rise of 32%.
What is elder fraud?
There are a number of types of elder fraud and targeted scams that can con people out of their money, with millions of elderly US citizens falling victim to it each year.
With the ever-evolving world of technology being somewhat confusing and intimidating for many elderly citizens, some may be more susceptible to falling victim to scams that involve technology.
From extortion to romance scams, there are numerous ways in which fraudsters target the elderly, many of which we will explore in this report, as well as the losses and prevalence of these frauds.
The states where elder fraud is most prevalent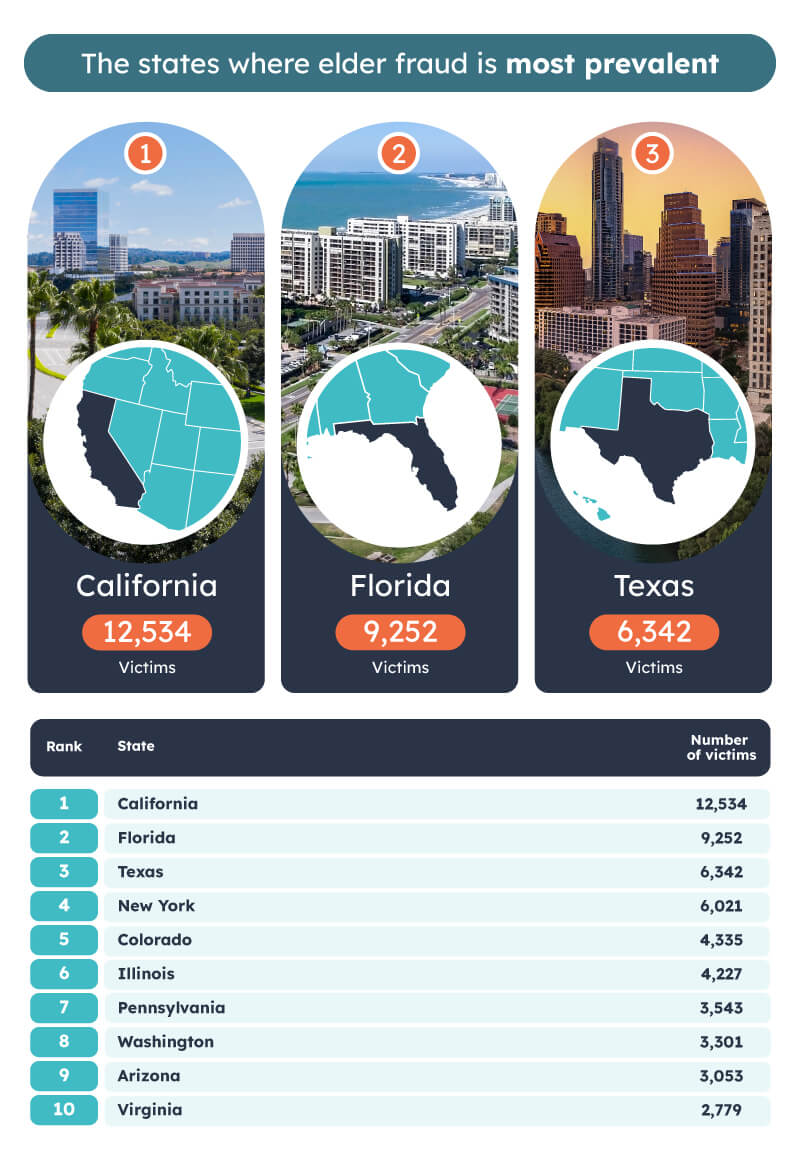 Some states seem to have to deal with elder fraud more often than others, with there being thousands of incidents in each state during 2020. So, with this in mind, which states had the highest rate of elder fraud?
⦁ California – 12,534 victims
While California is known as the Golden State and is the home to the glitz and glamour of Hollywood, it is also the state with the largest number of elder fraud victims with more than 12,500 victims in the year of 2020.
⦁ Florida – 9,252 victims
From the Golden State to the Sunshine State, Florida is known for its aging population and sadly, this population is particularly vulnerable to fraud and scam attempts. With over 9,000 victims over the age of 60, Florida ranks second in terms of elder fraud prevalence.
⦁ Texas – 6,342 victims
The southern state of Texas ranks in third position in terms of states where elder fraud is most prevalent, with more than 6,000 victims during 2020.
The states where elder fraud is most costly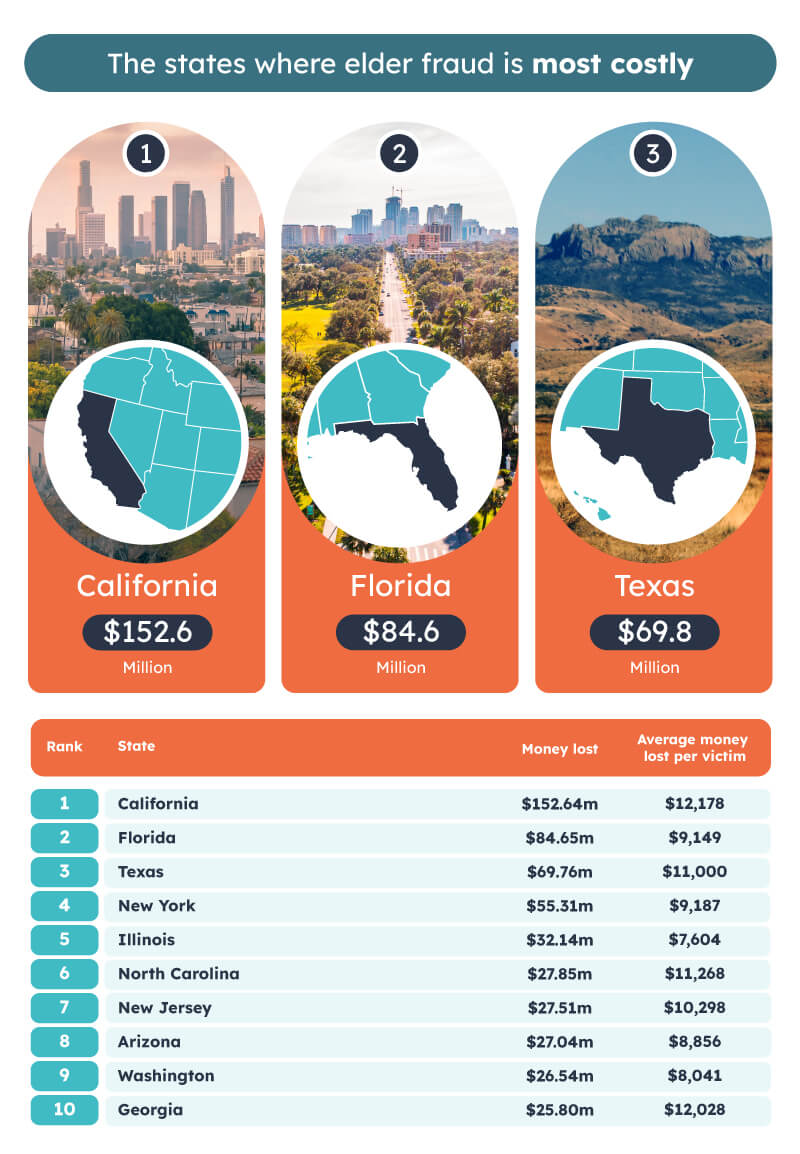 ⦁ California – $152.64 million
As the state with the highest number of elder fraud victims, it is no surprise to see California sitting at the top of the table of states with the costliest elder fraud. At more than $152.6 million in financial losses, that equates to an average of $12,178 per victim.
⦁ Florida – $84.65 million
Following the pattern, Florida takes the second spot with elderly residents losing a huge $84.6 million during 2020. If we break this down between the 9,252 victims, that's an average of $9,149 per person.
⦁ Texas – $69.76 million
Again, just as before, in third place is the state of Texas which saw a loss of $69.8 million, equating to an average loss of $11,000 per victim.
The most common types of elder fraud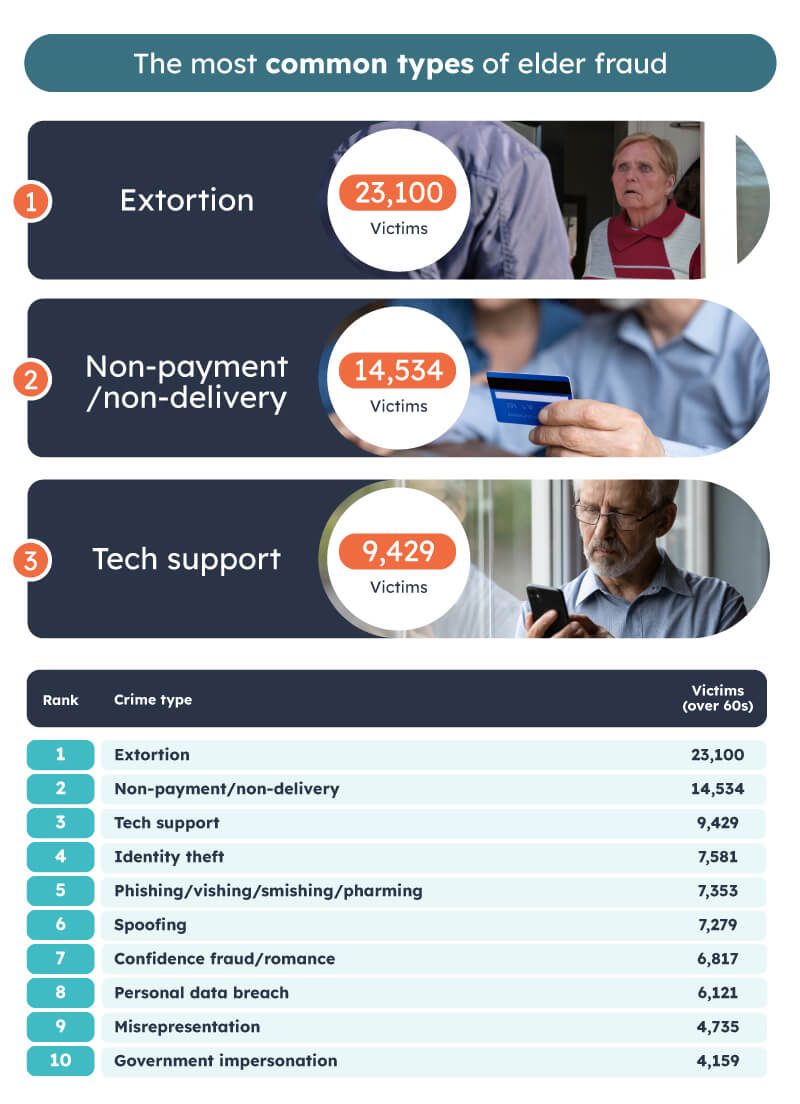 There are many ways in which elderly people are defrauded and scammed out of their hard-earned money, but which are the most common types?
⦁ Extortion – 23,100 victims
Sadly, the most common type of elder fraud is extortion, a method that involves the threat of harm, either physical or financial, or else threatening the release of sensitive data. Many of these extortion threats were committed via email, with a specific email extortion campaign taking place in 2020, threatening to infect the victim with COVID if they did not pay a set amount in cryptocurrency.
⦁ Non-payment/non-delivery – 14,534 victims
With so many of us having to rely on online shops and grocery deliveries made through online orders, the over 60s were getting online more than ever before during 2020. Unfortunately, this may have contributed to the large number of non-payment/non-delivery fraud victims, a fraud type that involves offering and advertising an item for sale with no intention of sending the item ordered when payment is made.
⦁ Tech support – 9,429 victims
If you have watched videos of pranksters wasting the time of fraudsters, it's likely that you have witnessed a would-be tech support fraudster. This involves fraudsters posing as technical support workers, often claiming that the victim has a computer virus or that their online banking has been compromised. These scams often end with the victim unwittingly transferring money to the fraudster or even handing over online banking details.
The most costly types of elder fraud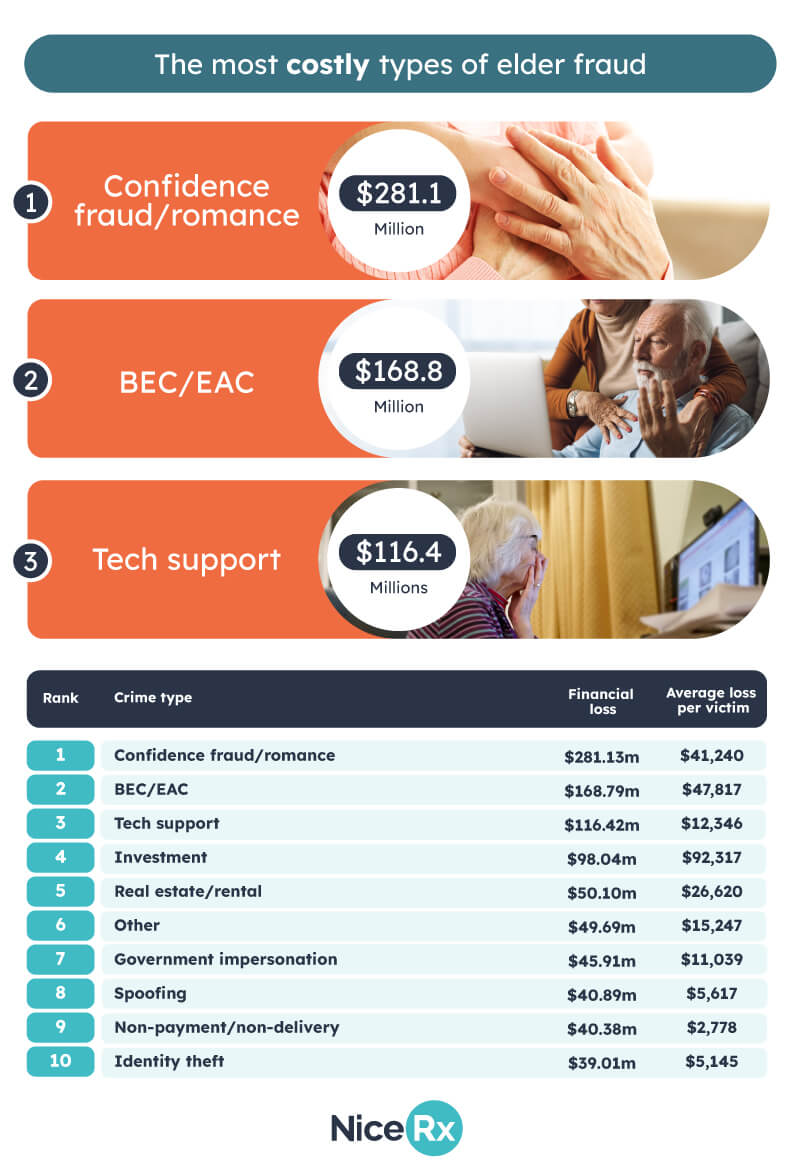 Each different type of elder fraud can cost victims millions of dollars every year, but which type of fraud has cost over 60s the most in 2020?
⦁ Confidence fraud/romance – $281.1 million
Playing on the vulnerabilities and even the good nature of the elderly victims, confidence fraud and romance scams use personal relationships to secure payments and even fraudulent investments. These relationships may involve the criminal impersonating a loved one or may involve them creating an online persona to win the trust of a victim. These scams cost victims a huge $281.1 million, equating to an average loss of $41,240 per victim.
⦁ BEC/EAC – $168.8 million
Business email compromise/email account compromise, otherwise known as BEC/EAC targets businesses and individuals respectively, fraudulently accessing email accounts and using them to transfer funds from the victim. With a total cost of $168.8 million during 2020, that equates to an average loss of $47,817 per victim.
⦁ Tech Support – $116.4 million
Tech support scams are particularly effective against elderly people as technology can often be intimidating for those of a mature age. Receiving a phone call to tell them that their laptop has a virus or they need to pay to update software can be confusing, so it's no surprise that so much money is lost to these scams each year, with an average loss of $12,346 per victim in 2020.
Methodology:
All data is taken from a 2020 Elder Fraud Report produced by the Federal Bureau of Investigation.
Search volume was taken from Google Keywords Planner and relates to searches conducted in the United States in 2020 and 2021.
Is your prescription medication too expensive? NiceRx can help you access your medication for $49 per month, including Viibryd, Jublia, Ubrelvy, Emgality, Ozempic and Otezla.