Healthcare Costs
The states paying the most for healthcare
The cost of living crisis has hit America hard, leaving citizens struggling financially and unable to afford the basic necessities of food, fuel, utilities, and healthcare.
With prescription drug charges already two to three times higher than in other countries, and with insurance costs and prescription medication charges rapidly increasing, many Americans are left unable to afford life-saving medications like Eliquis, Xarelto, Creon and Jardiance.
But which states are paying the most for their healthcare? We've taken a look at overall healthcare costs and the average price of prescription medications in each state to find out. We've also examined the injuries and illnesses Americans pay the highest premiums for.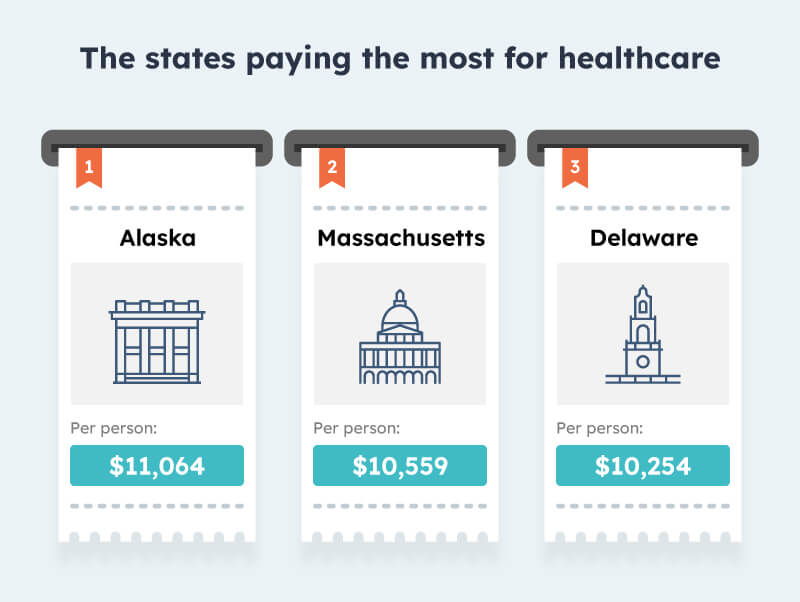 1. Alaska
$11,064 per person
Taking the top spot is Alaska with overall medical spending per person totaling more than $11,000. Medical costs in Alaska are the highest in the nation thanks to its tiny population and isolation from the mainland US and larger healthcare markets. This means limited competition between healthcare providers and higher healthcare costs.
2. Massachusetts
$10,559 per person
Up next is The Bay State, with residents paying more than $10,500 per person for their healthcare. The state previously introduced landmark legislation to curb healthcare costs, although even with these measures health insurance for a family of four costs an average of $22,000.
3. Delaware
$10,254 per person
Delaware takes third place, with residents forking out $10,254 per person in overall healthcare costs. The consolidation of hospitals and healthcare systems in the state has created a lack of competition, meaning hospitals aren't incentivized to offer insurers lower prices.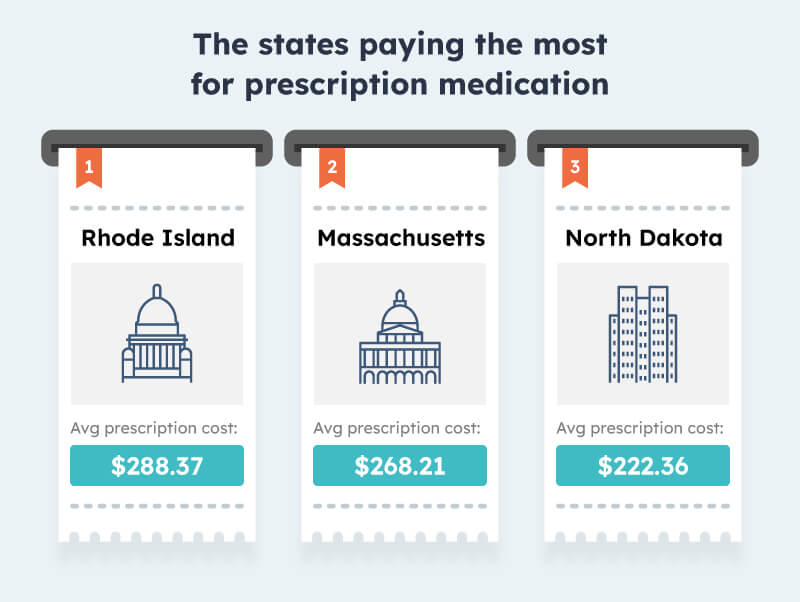 1. Rhode Island
Average prescription cost: $288.37
The New England state tops the list for medication charges. Recently the state has introduced measures to cap prices on certain essential medications for chronic diseases like insulin, although the average price of prescription medications is still the nation's highest, at just over $288. 
2. Massachusetts
Average prescription cost: $268.21
Up next is Massachusetts. Similarly to other states, Massachusetts has recently introduced laws to punish drug companies for overcharging their customers, capping their ability to profit at 20 percent above the index price of drugs like Linzess. However, this still leaves its residents paying an average of $268.21 per prescription.
3. North Dakota
Average prescription cost: $222.36
With the price of prescription drugs in the US outpacing inflation, as many as one in four North Dakotans didn't fill a prescription over the past two years, citing rising costs as the key reason. The Peace Garden State takes third place, with medication costs averaging slightly more than $222 per prescription.

Of course, there are many different costs associated with illness and injuries including travel, childcare, and loss of working hours when seeking out healthcare too. But which will cost the most for an ER visit? Here are the most expensive common injuries and illnesses.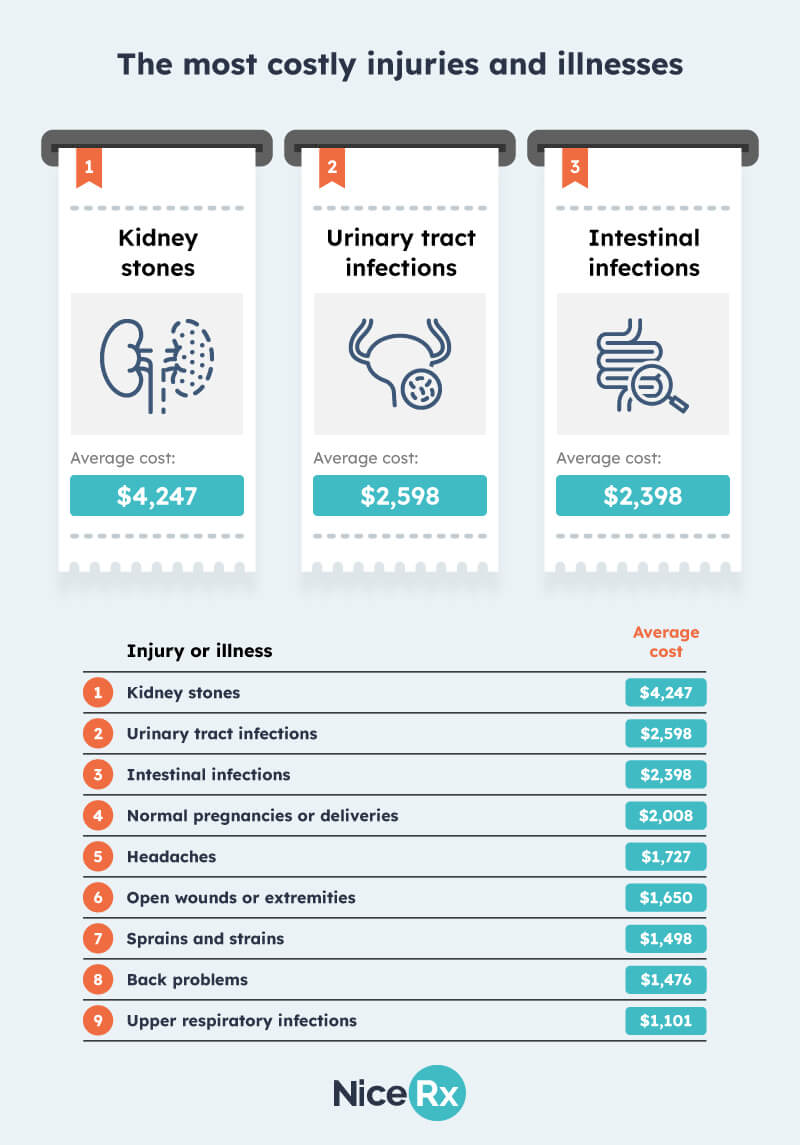 1. Kidney stones
Average cost: $4,247
This painful and often hereditary condition triggered by a poor diet or other medical complaints like past infections takes the top spot, costing over $4000 to treat. Kidney stones are the most expensive illness as they have a high chance of recurring and are becoming an increasingly common medical complaint, pushing costs up.
2. Urinary tract infections
Average cost: $2,598
This ailment, one of the most common reasons for women to attend primary care, takes second place. Urinary tract infections, which when left untreated can cause kidney infections, cost an average of more than $2,500 per person, including diagnosis and a prescription for antibiotics. 
3. Intestinal infections
Average cost: $2,398
Taking third place are intestinal infections. This illness costs an average of $2,398, with the condition becoming more expensive to treat as severe cases are increasing, leading to more people being hospitalized and visiting ER departments for treatment.
Methodology
The states paying the most for healthcare: The overall healthcare costs in each state according to World Population Review.
The states paying the most for prescription medication: The average cost of prescription medication in each state, calculated by dividing the total number of prescriptions by the total prescription charges in each state according to Definitive Healthcare.
The most costly injuries and illnesses: The average cost of a doctor's visit without insurance for selected medical complaints according to VisaGuide.