Saxenda
Patient assistance program
Complete a free online enrollment application to find out if you're eligible to pay only $49 per month for your Saxenda medication with our help.
Get started today
Secure: Your personal and medical information is safe with us
Convenient: We manage the whole process and we're here to assist you
Ongoing refills: We request your medication refills on your behalf
Secure: Your personal and medical information is safe with us
Convenient: We manage the whole process and we're here to assist you
Ongoing refills: We request your medication refills on your behalf
NiceRx works with your healthcare provider to help you access affordable medications directly from U.S. pharmaceutical companies.
An introduction to NiceRx

Next steps after qualifying

Uploading documents and billing

SSN & billing information
How it works
Qualification

NiceRx verifies your eligibility for medication assistance and notifies you if you are qualified. The pharmaceutical company provides your medication for free and you only pay our service fee.

Upload Documents

You may be required to submit further information and documents required by the pharmaceutical company which can be securely uploaded online.

Application Created

Your application is created and sent to your doctor for signature. At this stage, you will be billed $49 and will not be billed again until you receive your first medication delivery.

Receive Medication

Your application is sent to the pharmaceutical company. You will be billed again once you receive your medication. We handle the entire ordering process including requesting ongoing refills.
Your monthly Saxenda cost savings if eligible
With our assistance, you could access the Saxenda patient assistance program and obtain your medication for free. We only charge a flat monthly fee of $49 per medication for our services.
Strength
Avg. monthly price at
a US pharmacy
NiceRx monthly
price
Monthly savings
with NiceRx
3 x 3ml 18MG/3ML Solution Pen-injector
$789.00
$49.00
$740.00
Am I eligible for Saxenda patient assistance?
We review each Saxenda enrollment application individually to determine if you are eligible. Each assistance program has its own eligibility criteria and the factors considered by most programs are:
I am a permanent, legal resident of the United States or Puerto Rico
I am uninsured or my insurance doesn't cover my medication
I meet certain income eligibility requirements
How do I apply for the Saxenda patient assistance program?
Our process makes it as easy as possible to apply for the Saxenda patient assistance program. Begin by completing the enrollment application form on our website. Tell us about any medications that you are taking, including Saxenda. You must also provide details about your healthcare provider, your insurance plan, and your household income. This is required by the pharmaceutical manufacturers who will supply the medication, so it is important to make sure this information is accurate and up to date.
We will review the information that you have provided to determine whether you are eligible for patient assistance. If we can pre-qualify you for assistance, NiceRx will handle the full enrollment process on your behalf. If you are approved by the pharmaceutical company, you will typically start receiving your medication in 6 – 8 weeks.
Is NiceRx a Saxenda coupon provider?
NiceRx is not a Saxenda coupon, Saxenda discount card, or Saxenda copay card provider. We do not offer Saxenda manufacturer coupons, Saxenda discounts, rebates, Saxenda savings cards, trial offers, or free Saxenda samples. We are a service provider that helps eligible individuals access the Saxenda patient assistance program.
Can NiceRx help me get Saxenda cheaper if I have insurance?
NiceRx may be able to help you get Saxenda if:
You have a high copay or coinsurance responsibility for Saxenda
Your insurance company will not pay for your Saxenda prescription
Your healthcare plan does not cover Saxenda medication
You do not have insurance
Please apply online to find out if we can help you.
How much is Saxenda with insurance?
The cost of Saxenda with insurance will depend on the terms of your healthcare plan. Your healthcare provider or pharmacist will be able to calculate your copay with your current insurance. Contact them to find out more.
How much does Saxenda cost without insurance?
Saxenda prices without insurance will vary depending on how much you buy. Prices will also vary by retailer. As a guide, Saxenda subcutaneous solution (18 mg/3 mL) will cost around $1,400 for 15 milliliters.
What is Saxenda?
Saxenda contains the prescription medicine liraglutide. Liraglutide is similar to a naturally occurring hormone in the body that controls digestion, insulin levels, and blood sugar levels. Saxenda is recommended alongside a reduced-calorie diet and an increase in exercise. It is used to help manage obesity in adult patients with a body mass index (BMI) of
30 kg/m2 or more, or
27 kg/m2 or more, if you have high blood pressure, type 2 diabetes, or high cholesterol, triglycerides, or a low HDL cholesterol level that is making plaque build up in your arteries worse
Saxenda is not specifically for the treatment of type 1 or type 2 diabetes or weight loss. Saxenda is part of a treatment plan that will include, diet, exercise, and weight management.
Saxenda is given as a subcutaneous injection under the skin. It can be given at any time of the day, with or without a meal. Saxenda comes in a prefilled pen. You should not inject into the same place two times in a row. If the injection has particles in it or changed color, do not use it. Speak to your pharmacist for a new medicine. You should dispose of used needles and syringes by using a puncture-proof disposal sharps container. Store unopened pens in the refrigerator. In-use pens may be kept at room temperature for up to 30 days. Always remember to store your medicine out of the reach of children and pets.
Saxenda active ingredients
Liraglutide is classed as an acylated human glucagon-like peptide-1 (GLP-1) receptor agonist. Liraglutide binds to and activates the GLP-1 receptor. Unlike naturally occurring GLP-1 in the body, which has a half-life of up to 2 minutes, liraglutide is stable against breakdown by enzymes in the body and has a half-life of 13 hours. Because liraglutide has delayed absorption and plasma protein binding and has a half-life of 13 hours it can be given once daily by subcutaneous injection.
GLP-1 is classed as a physiological regulator of appetite and calorie intake. This means it works by a method known as negative feedback. The GLP-1 receptor is seen in several areas of the brain involved in appetite regulation.
Saxenda side effects
The most common side effects caused by Saxenda include:
Nausea, vomiting, and stomach pain
Diarrhea
Constipation
Fast heart rate
Tiredness
Headaches and dizziness
In rare instances, Saxenda can cause more serious side effects. These can include:
Increased heart rate
Suicidal thoughts or sudden changes in behavior and mood
Severe nausea, vomiting, or diarrhea that will not stop
Hypoglycemia (very low blood sugar levels) – feeling very weak, shaking, confused, sweating, fainting, or seizures
Pain or difficulty to urinate, swelling in ankles or feet, tiredness, and difficulty breathing
Trouble swallowing, lump, or swollen neck
Jaundice – yellowing of eyes or skin, darker stools, upper stomach pain spreading to back
Your doctor will assess the benefits of using Saxenda against your risk of side effects.
Saxenda drug interactions
Saxenda can interact with other medications. These include:
Bexarotene – cancer treatment
Gatifloxacin – an antibiotic
Insulin – aspart, detemir, glargine, lispro
Oral diabetes medicines – glipizide, glimepiride
Antiviral medication – amprenavir, atazanavir, darunavir, ritonavir, saquinavir
Diuretics – bendroflumethaizide, bumetanide, furosemide
Antibiotics – ciprofloxacin, clarithromycin, norfloxacin
Corticosteroids – dexamethasone, fludrocortisone, prednisolone
This list is not exhaustive and other drugs may interact with Saxenda.
Saxenda warning and precautions
You should not use Saxenda if you:
Are allergic to the active ingredient liraglutide
Are allergic to any of the other ingredients in Saxenda
Are using insulin or albiglutide, dulaglutide, or exenatide
Have multiple endocrine neoplasia type 2
Have a family history of medullary thyroid carcinoma
Have diabetic ketoacidosis
Are under 18 years of age
Talk to your doctor before using Saxenda if you:
Are taking any of the medications that could interact with Saxenda
Have kidney disease
Have liver disease
Have high cholesterol or triglycerides
Have heart problems
Have problems with your pancreas or gallbladder
Have depression or suicidal thoughts
Have stomach or digestion problems
Are pregnant or are planning to become pregnant
Are breastfeeding or are planning to breastfeed
Saxenda manufacturer coupon
Prescription drug coupons are provided by manufacturers to help individuals save on their medications. Sign up to find out if you are eligible to receive a Saxenda Savings Card and pay as low as $25  for your Saxenda up to a maximum benefit of $200 per prescription. To find out if you are eligible, view details and read the requirements carefully to ensure you are qualified.
Related medications
Saxenda research & news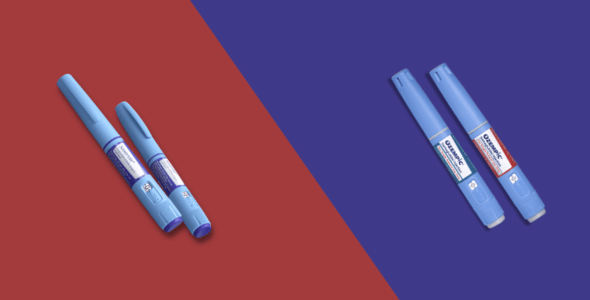 Saxenda and Ozempic are prescription drugs approved by the U.S Food and Drug Administration. Both drugs are glucago...
Read more
*Qualifying persons may obtain medications directly from patient assistance programs without any out-of-pocket cost (or for less than $49 per medication). However, our monthly flat rate of just $49 per medication spares you the hassle of tracking down the different programs and filling out all the required paperwork for each program.
Enrollees enjoy a full-service solution, as NiceRx assists them and their physicians with the entire process. We prepare all required documents for the physician to sign, help enrollees manage all prescription refills, monitor eligibility criteria, and maintain enrollment.
**If you do not receive medications because you were determined to be ineligible for the prescription assistance by the applicable pharmaceutical companies and you have a letter of denial, we will refund any fees you paid toward medications for which you did not qualify to receive prescription assistance ("Refund").
To receive a refund, you must send the letter of denial to us by fax to 888-517-7444, or by e-mail to [email protected] within 30 days of your receipt of such letter. The Refund is your sole and exclusive remedy for any fees you may wish to dispute.
The content on this website is intended for information purposes only. It does not constitute medical advice. The information on this website should not be relied upon and is not a substitute for professional medical advice. You should always speak to your doctor regarding the risks and benefits of any treatment.